New Compound Review
Publication focus 2022:
Vol.40 (2022): published in April 2022

© Agranova 1999 - 2022
© Ag Chem Information Services 1986 - 1999
Soft cover A4 book (approx. 150 pages)
Also available as an Acrobat pdf file
The 2022 edition (Volume 40) of the New Compound Review contains the following key information for over 325 active ingredients in development, or which have recently changed status:
The identity and activity profiles of more than 325 experimental chemical and biological compounds having crop protection activity. These are the recent discoveries and innovations of over 100 basic research companies and institutions worldwide.

The identity of about 40 new crop protection leads not previously disclosed. These are the newest chemical and biological discoveries from over 20 discovery companies and institutions, and which have been subject to initial public disclosure in the past 12 to 18 months. Many of these substances are sufficiently developed to enable their chemical or biological compositions to be disclosed.
Active ingredients which have changed status within the last three years (i.e. have been commercialised, or have been put on hold or discontinued from further development), are also included.
Additional data such as common name, trademark, chemical structures, CAS numbers, patents information, a more thorough identity of rates of use, target pests, mode of action, etc, will have been added to a high percentage of the initial early new leads first identified in the previous year's edition.
A complete updated summary of the most recent activity and advances in all phases of the exciting new crop protection technology - transgenic crops, which is now becoming a significant factor in the world market.
Compounds are identified and indexed individually by trademark, common name, company experimental compound code number, and by discovery company. Now with any "bit" of information you can quickly find the compound you are looking for.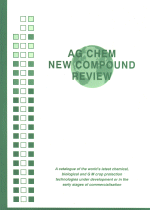 Brochure/order form
Back